A few days separate us from the end of the World Cup… For the first time on WeSportFR, a 100% Fan interview is posted in English. Today, focus on Maghrib Foot, a Anglophone Twitter page gathering all the information concerning Moroccan football (National team and championship).
The interview is also available in French !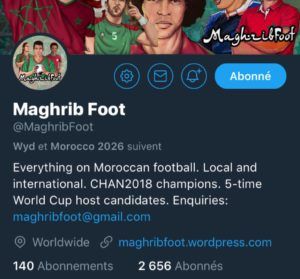 Hi Maghrib Foot, thanks for accepting this interview. First of all, can you present yourself to the readers ?
My name is Benjamin Hajji, a Norwegian-born Moroccan who have been passionate about Moroccan football ever since I was a kid. I've always felt a strong connection to the football culture in my country and have a great passion for it, both locally and internationally, and even played for the youth national team in my younger days. My biggest issue has always been to find a professional and consistent source in English, covering Moroccan football, as I don't speak French.
After the friendly against Serbia this spring, I finally decided to make one myself and try to give people an insight to the beauty of "koora" (football in Moroccan dialect, ed) for the English-speaking audience, as I know there are loads of Moroccans around the world who don't speak Arabic or French. So far, I'm very happy with the feedback and growth of the page and hope for it to continue.
Since when do you follow Moroccan football in general and Botola (Moroccan championship)?
I have followed the national team and players in Europe ever since I was a little kid, watching with my father who is also extremely passionate about the Atlas Lions. The Botola (Moroccan championship) have been harder to keep up with, as I live in Europe without the games on TV, but I've tried to follow it closer over the last few years, with the TV station Arryadia showing the games for free online.
How do you organize your informations' research ?
I am following several great news outlets which provide a lot of useful insight, as well as the club's official pages. Moroccan clubs are very open in that sense, often updating on inside news which is highly useful. With my background as a former Moroccan youth international, I also have connections close to both the federation and club officials. That definitely comes in hand and I'm aiming towards becoming the number one source for local Moroccan football in English.
What are your thoughts on the Moroccan football this year, especially with the African Champions League won by Wydad ?
The domestic football in Morocco have definitely seen huge improvements in terms of results, over the last years. Not only with Wydad Casablanca's Champions League victory, but the African Nations Championship triumph was a huge confirmation for us, that the Botola is going in the right direction. There's no doubt that we still have a lot to work on, and too many clubs are still struggling big-time financially, with no real structure. But it's improving.
This last year has been especially exciting, with Ittihad Tanger winning their first ever league title, with Wydad Casablanca and the impressive Hassania Agadir challenging them all the way. Not to mention the drama in the bottom, with 2014 FIFA Club World Cup participants, Moghreb Tétouan, making an amazing comeback, going from rock bottom of the league to suddenly winning almost every game in the last part of the season.
Meanwhile, Rapide Oued Zem sensationally stayed up in their first ever season in the top flight, while RS Berkane are currently making history in the CAF Confederations Cup. A lot to be excited about!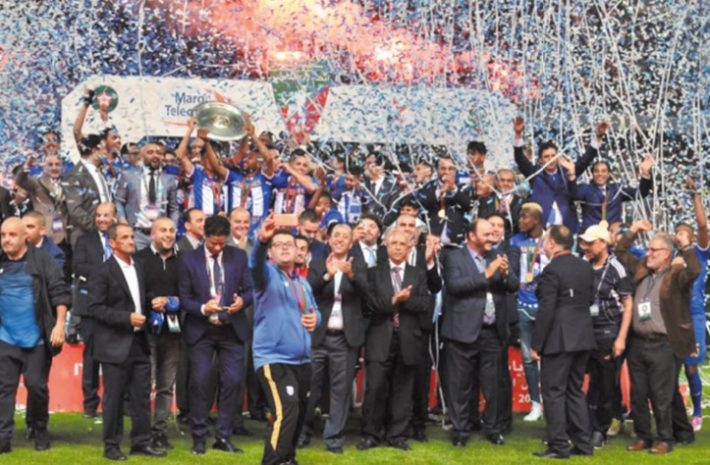 Ittihad Tanger celebrating their title
What are your thoughts on the Moroccan team journey in this World Cup ?
Oh, that requires a whole article. But to sum it up, I'm very proud of our national team, despite finishing bottom of the group. They were the far better side against both Iran and Portugal, while taking the lead twice against Spain. A silly own-goal conceded in the first game, while both Portugal and Spain had goals that should've been disallowed in my opinion. It's not an excuse, as we obviously had enough chances to take more points than we did, but it feels harsh and slightly unfair to go out, looking back.
What's the best memory you lived with Morocco national team ?
The decider against Cote d'Ivoire in Abidjan last year, sending us to Russia, is definitely up there. But I would have to say the quarter-finals of the 2004 African Cup of Nations against Algeria. We were coming into the tournament as one of the favorites, with quality all over the field. Walid Regragui, Talal El Karkouri and Abdeslam Ouaddou in defence, all regulars in the French top flight, Coventry player Youssef Safri as the stabilizer, and offensive spark in Marouane Chamakh, Youssouf Hadji, Jaouad Zaïri and Youssef Mokhtari.
Our neighbors had a squad mostly consisting of players from the domestic league and barely made it out of their group. But after 90 minutes, The Fennecs was 1-0 up in Tunisia. A late goal from Chamakh secured extra time, where Hadji and Zaïri sent the Algerians home and the Moroccans to a semi-final. An incredible feeling winning in that fashion against our biggest nemesis…
And what's the worst one ?
The last qualifying game to the 2006 World Cup against Tunisia. We had already lost to them in the 2004 AFCON final one year and a half earlier and were now going to find out who would go to Germany. Morocco had 19 points, while Tunisia had 20, which meant that we needed three points away from home on the last day.
The sides were all square with 1-1 right before half time, before captain El Karkouri scored a scrappy goal from a long free kick. We had one foot in the World Cup up until the 70th minute, when an attempted cross ended up in the back of the net, sending our neighbors through with one point separating them. Truly heartbreaking…
Your all-time best 11 of Morocco ?
Maghrib Foot's Moroccan All Time Squad
This was a lot harder than I thought. Benatia did not have the same emotional impact as the others but ability wise he's one of the best Moroccan defenders ever. On the other side of the scale we have Youssef Safri, who's not the most skillful player we've had, but he was so important for years, when our national team was at its lowest point. Feels weird leaving out a guy like Houssine Kharja, while Jaouad Zaïri would've been my hipster choice.
What can we wish you for the future ?
I think Morocco are on the right path, especially if they can hold on to Hervé Renard. He has the respect in the dressing room, which is not the easiest of tasks in Morocco, and also seem to have a clear strategy which we need. Hopefully we can bring through more local players, as in the cases of Walid Azaro, Ayoub El Kaabi and Achraf Bencharki. We have Hamid Ahadad who just transferred to Zamalek from Difaâ El Jadida and I'm expecting more players to follow.
Personally I'm in a phase where it's about building a network and get connections, in order to keep Maghrib Foot growing. I am very optimistic and look forward to see what the future will bring!
A last word for the WeSportFr readers ?
I hope you've gotten to know me a little better and maybe caught some interest for my big passion. Moroccan football has its flaws, but few other countries share our passion and authenticity. And please don't hesitate with reaching out on Twitter. I'm always happy to take a discussion!