Ce fut lors d'une froide soirée de samedi que nous avons fait la rencontre d'un jeune anglais au style atypique. Vêtu d'un sweat à capuche multicolore et d'un short au goût certain. Chaussé d'une paire de claquette chaussettes, c'est avec une extrême gentillesse que Maverick Mayhew a répondu à nos questions dans le froid glacial du Nord de la France. 
I – Salut Maverick, ravi de te rencontrer ! Comment es-tu arrivé dans le monde du catch ? Ce parcours a-t-il été difficile ? 
Salut ! De même, ravi de te rencontrer !
J'ai découvert le catch à l'âge de 8 ans à la télévision, je me souviens d'avoir fortement impressionné par la pyrotechnie ainsi que par le côté très flashy. Le premier show auquel j'ai assisté fut lors de mes 10 ans. Et comme chaque enfant fan de la discipline, je faisais du catch avec mon petit frère dans le trampoline au fond du jardin, que de souvenirs ! 
De ce qui est de mon parcours, ce fut vraiment difficile. Les entraînements sont vraiment éprouvants. J'étais si heureux quand on m'offrait des opportunités, les entraînements ont payés. 
II – Quel lutteur voire quels lutteurs ont été une inspiration pour toi ? La personne où à la seconde où tu l'as vu tu t'es dit : « je veux être comme elle » ?
Rey Mysterio ! Il est aussi petit que moi ! (rires)
Plus sérieusement, il a été une grande inspiration pour moi. Malgré sa petite taille et un poids bien inférieur il a remporté de nombreux combats ainsi que des championnats. Rey est une grande source de motivation.
Je n'oublierai jamais Will Ospreay qui fut comme un mentor. Il m'a pris sous son aile lorsque j'avais 14 ans. Il a été toujours là pour moi même dans les moments difficiles. Je  lui en suis tellement reconnaissant.
Son inspiration et son mentor sur un seul et même ring, si c'est pas beau ça. 
III – Comment vous vous êtes rencontrés avec Connor Mills ? L'alchimie fut-elle immédiate ?
Avec Connor (Mills), nous nous sommes rencontrés à la Knucklelocks (une école de catch britannique extrêmement réputée, ndlr). Le contact a été direct et nous nous entraînons souvent ensemble donc l'alchimie fut assez immédiate en effet !
Et surtout, Connor est mon meilleur ami, l'alchimie entre nous deux est vraiment forte !
Bromance. © Ringside Perspective 
IV – Nous avons appris récemment la fermeture de la Southside Wrestling, pour laquelle tu as travaillé à de nombreuses reprises. Quel sentiment as-tu éprouvé à une nouvelle comme celle-ci ?
Très triste… lors de mes débuts, la Southside était l'une des promotions les plus en vu dans le Royaume-Uni. Je voulais vraiment combattre pour eux. Je les remercie tellement pour les opportunités offertes. J'étais même ami avec les promoteurs pour te dire.
Et je ne m'inquiète pas pour la Southside, elle sera entre de bonnes mains avec la RevPro.
V – Depuis l'an passé, tu as lutté hors du Royaume-Uni en allant en Europe, notamment en Italie et même l'Australie. Tu ajoutes ce 7 septembre la France à ton actif. Ces déplacements hors des terres britanniques seront-ils plus fréquents dans les années à venir ?
J'espère tellement ! Toutes les expériences sont bonnes à prendre ! Je suis impatient de découvrir de nouveaux pays. A chaque déplacement hors du Royaume-Uni, je constate toujours de grandes de différences avec le catch britannique. 
VI –  Tu es un régulier de la IPW : UK depuis tes débuts (en 2014), comptes tu voler de tes propres ailes prochainement ou préfères-tu sortir de ta zone de confort ?
C'est important de sortir de sa zone de confort ! Comme j'ai dis précédemment, toutes les expériences sont bonnes à prendre. Il ne faut pas se reposer sur ses lauriers.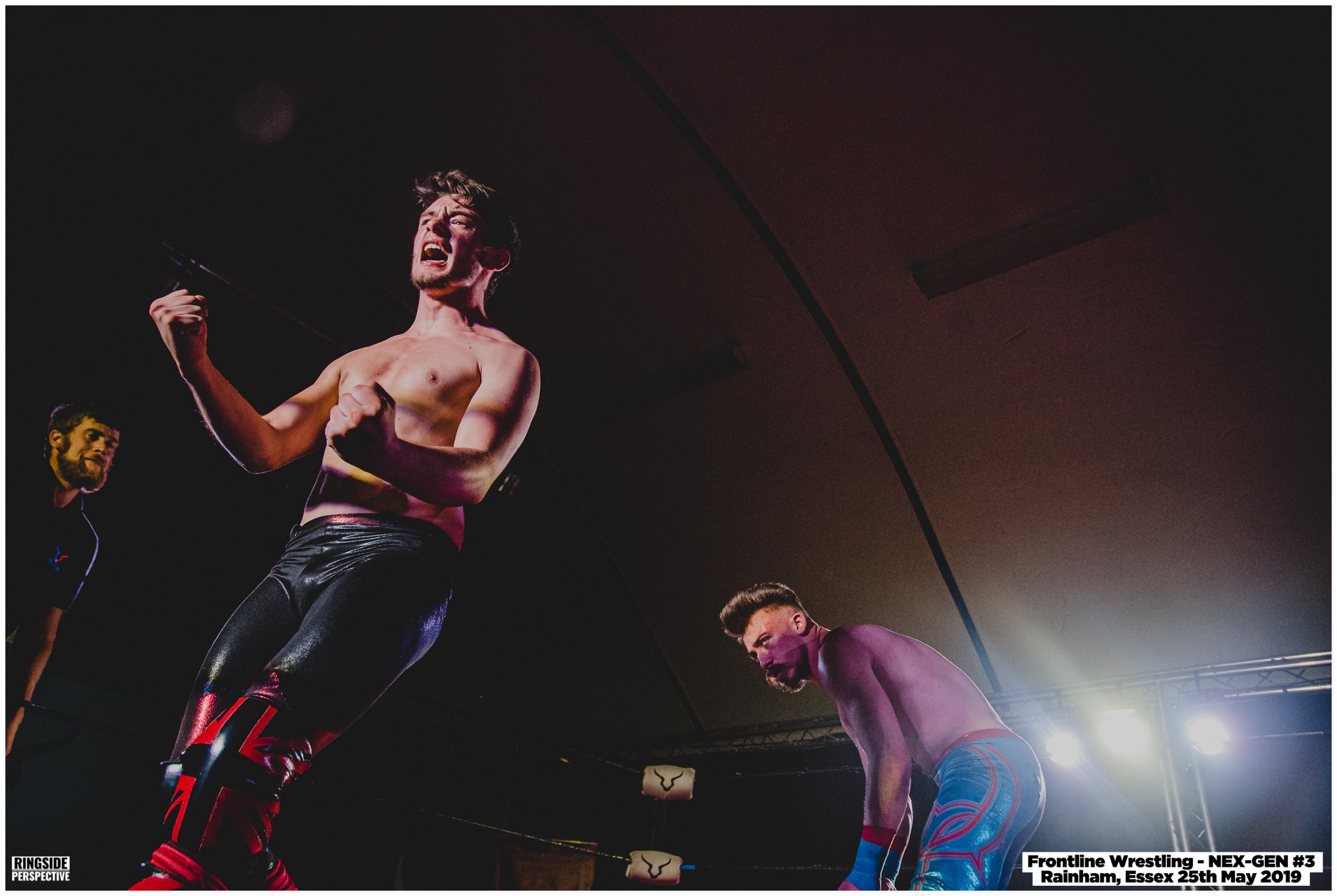 Maverick Mayhew face à Scotty Davis, l'un des jeunes lutteurs les plus en vue du circuit britannique. © Ringside Perspective
VII –  Quel est ton ressenti face au mouvement "INDEPENDANT" lancée par David Starr cette année. Promettant une meilleure couverture pour les lutteurs indépendants : utopie ou rêve réalisable ? 
Pour être honnête, je ne comprends pas trop le but de ce mouvement. Si ça aide le business, tant mieux et je l'espère. Très franchement, je me sens aussi pas vraiment concerné par celui-ci. Je souhaite juste que ça fasse du bien à notre milieu. 
VIII – Pour conclure, quels sont tes objectifs pour la fin d'année et celle à venir ? Des rêves que tu voudrais accomplir ? 
A vrai dire, je n'ai pas de rêve précis. Je ferai tout pour le catch. Je ferai tout mon possible pour ma passion. Me battre contre le plus de monde possible dans tous les pays est sûrement mon objectif. 
Par dessus tout, j'aimerai vivre du catch. En faire mon job à temps plein, mes parents seront ravis, surtout ma mère ! (rires)
Nous souhaitons à Maverick Mayhew le meilleur pour la suite. Un homme humble couplé à une sympathie sans égale, quelque chose qui manque fortement dans ce milieu. 
---
It was during a cold Saturday evening that we met a young English guy atypical style. Wearing a multicolored hoodie and shorts with a certain taste. Wearing a pair of flappers socks, it is with extreme kindness that Maverick Mayhew answered our questions in the freezing cold of the North of France.
I – Hello Maverick, nice to meet you ! How did you come into the wrestling world ? Would you describe your path to become a pro wrestler as difficult ?
Hello ! Nice to meet you too ! 
I've discovered wrestling on television at the age of eight. I remember that I was highly impressed by the pyros and also by the way everything was so "flashy". It was at ten years old that I attended my first wrestling show. Like every child who's a wrestling fan, I did some wrestling on the trampoline with my younger brother in our backyard. So much memories !
My wrestling path ? It was very difficult. Training sessions were so exhausting. I was so happy when they offered me some opportunities, trainings have paid !
II – Which wrestler has been an inspiration for you ? 
Rey Mysterio ! He's small, as I am ! (laughter)
Seriously, he was a great inspiration to me. Despite his small size and a much lower weight he has won many fights as well as many championships. Rey is a great source of motivation.
I'll never forget Will Ospreay. He was like a mentor. He has taken me under his wing when I was 14, and he has always been there for me. I'm so grateful.
His inspiration and his mentor in the same ring, if it's not beautiful. 
III – How did you meet Connor Mills ? How did you come to have such a great chemistry with Connor in the ring ?  
I met Connor at the Knucklelocks School ! We're very often training together. The chemistry between us was immediate indeed. 
Above all, Connor is my best friend, so the chemistry between us is really strong. 
Bromance. © Ringside Perspective 
IV – Recently, we've learned that Southside Wrestling Entertainment would close its doors…It's a wrestling promotion for which you have worked many times. How did you feel when you heard that news ?
Very sad… when I started, Southside Wrestling Entertainment was one of the most popular promotions in the UK. I had been willing to wrestle for them. I thank them so much for the opportunities they offered me. The promoter was a good friend of mine.
No worries for Southside, they'll be in good hands with RevPro.
V – Since last year you've been wrestling outside of the UK : you wrestled in Europe, especially in Italia, and even in Australia this summer. Today it's your first time wrestling in France ! Will those trips outside British lands be more frequent in the coming years ? 
I hope so ! Every experience is good to take ! I'm looking forward to discover new countries. Every time I'm working outside of the UK, I can always see big differences with British wrestling.
VI – You have been a regular at IPW: UK since your debut (in 2014) : do you plan to fly with your own wings in the near future or do you still prefer to stay in your comfort zone for a couple of months/years ?*
It's important to get out of your comfort zone ! As I said earlier, every experience is good to take. We must not rest on our laurels.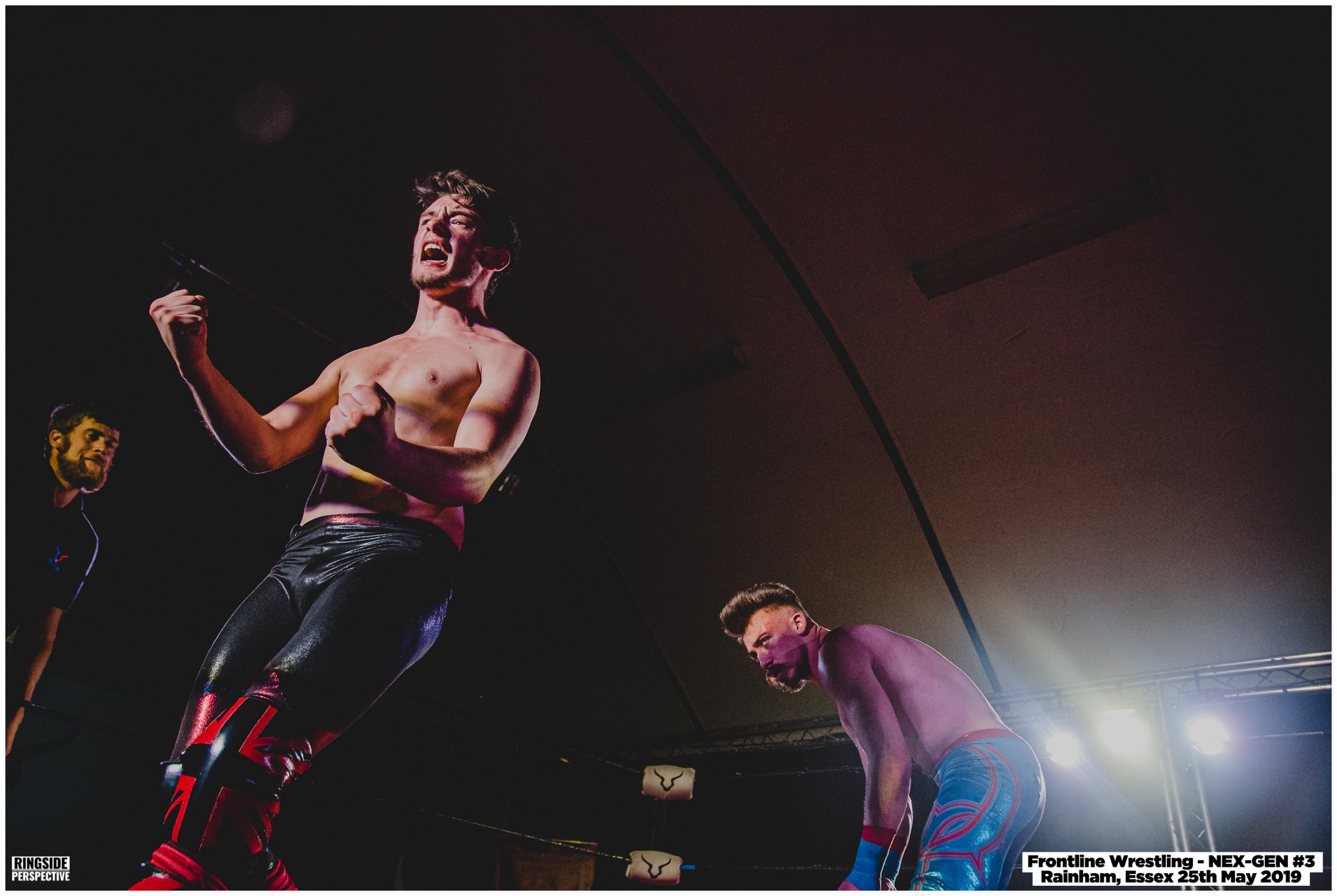 Maverick Mayhew against Scotty Davis, one of the british wrestling's hot prospects. © Ringside Perspective 
VII – How do you feel about the "INDEPENDENT" movement ? (launched by David Starr this year). Promising better coverage for independent wrestlers : would you rather say that it's somewhat utopic, or that it is an achievable dream ?
To be honest, I do not understand very well the purpose of this movement. If it helps the business, it will be cool and I really hope it does. Quite frankly, I also do not really care about this. I just wish that the INDEPENDENT movement will be good for our business.
VII – To conclude, what are your main goals for the end of this year and the years after ? Could you tell us about some dreams you want to accomplish during your wrestling career ?
To tell you the truth, I do not have a specific dream. I will do everything for wrestling. I will do my best for my passion. Fighting against as many people as possible, in as many countries as possible is surely my goal.
Above all, I would like to live thanks to wrestling. To make it my full time job : my parents would be delighted, especially my mother ! (laughter)
We wish Maverick Mayhew the best for the future. A humble man coupled with unparalleled sympathy, something that is sorely lacking in this business.